Indoor Air Quality Testing
Are you experiencing frequent headaches or sinus congestion in your home or business? Are you looking to put your property on the market, but need to provide an indoor air quality report to your real estate agent? When you need air testing, Capital Environmental Enterprises Inc. can help. Our team of business and home air quality experts has over 22 years in the field, and we are well-versed in a variety of indoor airborne toxins as well as organic compounds that are typically found indoors. We will put our knowledge and experience to work for you, using our skills to identify potential threats to your health and property. If you are concerned about your indoor air quality, call or e-mail Capital Environmental Enterprises Inc. to schedule an air quality test.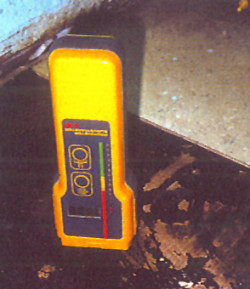 At Capital Environmental Enterprises Inc., we have the tools necessary to test for a variety of indoor air quality contaminants, such as:
Dust mites
Formaldehyde
Mold
Asbestos
Carbon monoxide
In addition, we will test to ensure that humidity and oxygen levels are within optimal ranges. Unlike other air testing companies that may just take samples and send you the test results, Capital Environmental Enterprises Inc. will walk you through each step of the process, answering any questions that you may have and providing expert advice based on our findings.
From dust mites (which can aggravate allergies and asthma) to high levels of humidity (which can precipitate mold growth) there are a number of elements that can lead to reduced home air quality. When you need to ensure the health and safety of your property, call Capital Environmental Enterprises Inc. for comprehensive residential and commercial air testing. Contact us today to learn more about our services or to schedule an air quality test.
LEED Air Testing
Before any new commercial space may be occupied, it must meet certain environmental quality requirements and obtain a Leadership in Energy and Environmental Design (LEED) certification. The standards for this certification are set by the United States Green Building Council, and every commercial interior must be tested in order to ensure that its air quality meets these standards. At Capital Environmental Enterprises Inc., we're authorized to conduct such air quality testing for LEED certifications, and we'll do so using our in-depth expertise and unfailing accuracy. Once all of your commercial space's materials and mechanical systems have been fully installed and are up and running, we'll spend approximately four hours sampling the air for specific toxins. Our samples will test the concentrations and levels of common airborne toxins, including:
Carbon monoxide (CO)
Volatile organic compounds (VOCs)
4-phenylcyclohexene (4-PCH)
Formaldehyde (CH2O)
Dust particulate matter (CM-10)
If you're managing a commercial space and need an LEED certification before you can begin operating, then you should call the air quality experts at Capital Environmental Enterprises Inc. Offering comprehensive testing and accurate results, we're here to walk you through this essential process and answer any questions you may have along the way. Call now to learn more.
indoor air quality
air quality indoor
air testing
air quality test